Quick Kingdoms
Comments
Log in with itch.io to leave a comment.
I like it. Here's my best run.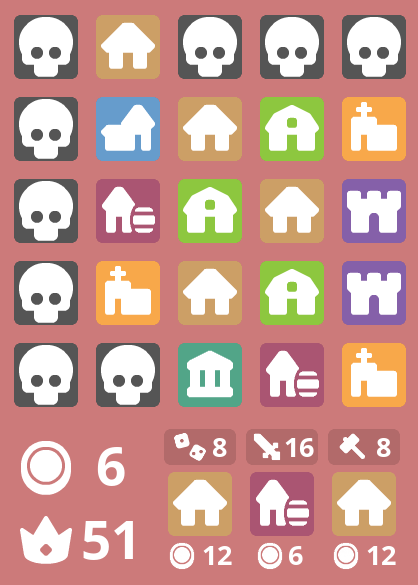 Franchement, je trouve ton jeu juste génial ! Bravo, manque plus qu'une détection de fin de partie ou de blocage avec un petit écran récapitulatif et se serait top. Vraiment cool en tout cas !
Merci beaucoup d'avoir joué ! Je suis d'accord, le jeu a besoin d'une fin. (Je ne parle pas français, donc j'utilise un traducteur.)
Fun concept. Simple and effective. That being said, its a bit too easy to get softlocked early on since its not immediately clear how turns only progress when you buy buildings (and not when you reroll, kill, or clear).
Hey, thanks for playing! Yeah, the difficulty and bottlenecks early on are something I'm still debating. I do like that the game has fail states and a learning curve, but I don't want it to be quite as restrictive as it currently is: I'd like there to be multiple paths forward to choose from. Thanks for the feedback.
I guess you're done when you're done? Is the goal to fill up with buildings? I didn't make it :)
Haha yeah, there's currently no "end of run" detection. The goal is just a high score! The grid filling up will eventually stop you, but if you've gathered enough money, you can sometimes manipulate things a while longer...
This is super cool! Well done! I loved Tiny Islands.
I have no idea what a "good" score is, but this was loads better than my earlier runs! I definitely didn't make the best use of defeating enemies and knocking down my buildings. I suspect you could pull off some real clever set ups with knock downs.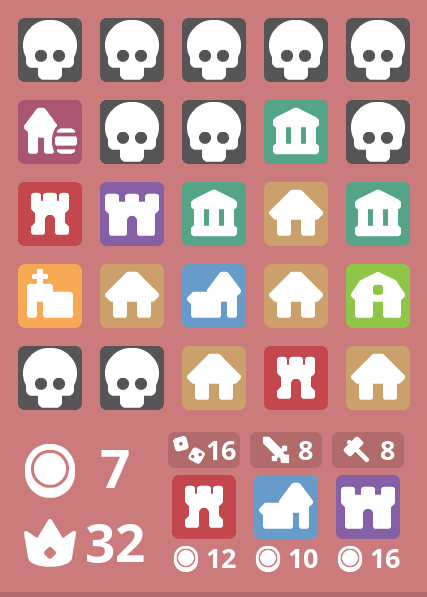 Thanks for playing, glad you enjoyed! One thing I was pleasantly surprised by is that there's sort of a natural learning curve that happens as you play for a bit, new strategies making themselves apparent. Definitely lots of ways to use the tools.